About the book
Recently, emerging economies have contributed significantly to world economic growth and output. This Research Handbook advances, synthesises and expands the hitherto sparse publications on marketing in emerging economies, investigating specific processes and requirements, as well as the consequences of conducting marketing in these challenging contexts.

Addressing diverse issues from a universal as well as regional and country-specific perspective, this book sheds light on general topics such as data collection procedure equivalence and marketing accountability, in addition to exploring specific context, such as Central and Eastern Europe and India. Comparing the ways in which marketing is performed in emerging and advanced economies, the chapters explore various aspects including business-to-business marketing relationships, the role of multicultural markets in marketing and retail marketing of multinational corporations.

Timely and engaging, this Research Handbook will appeal to students and scholars interested in international business and marketing in emerging economies. Business practitioners, managers and policy makers working in emerging economies will also benefit from practical guidance on improving approaches to serving customers, as well as creating conducive environments for serving customers.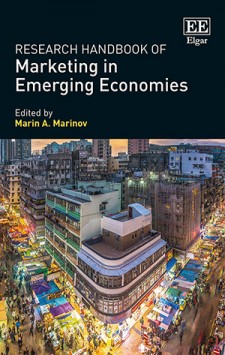 Buy the book here: http://www.e-elgar.com/shop/research-handbook-of-marketing-in-emerging-economies